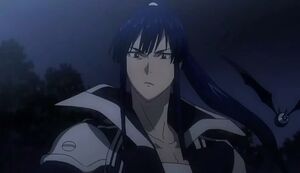 Yu Kanda (神田裕 Kanda Yū?) is a cold 18-year-old Exorcist from Japan. He is the first Exorcist that Allen meets at the Black Order headquarters; since then, they have an ongoing rivalry toward each other which often causes them to throw insults and offensive statements towards each other. He is a disciple of General Tiedoll and hates the fatherly way the man treats him. He is a Second Exorcist, a type of Exorcist created in the Synthetic Disciple Project Central forced onto the Chan and Epstein families nine years ago. Because of this, he can see lotus flowers blooming wherever he goes. As a child, there was only one and he was told that it was an illusion. Since then, the flowers have multiplied. In the anime adaption, the lotus flower is in an hourglass and is connected with his lifespan. As he approaches death, the flower loses its petals. He can recover much more quickly than ordinary humans due to a mysterious tattoo above his heart. Kanda cannot die until he finds a "certain person"; that person is revealed to be a female Exorcist whose brain was put in Alma Karma, another Second Exorcist. His anti-akuma weapon Mugen (六幻Six Illusions?) was originally forged by Zhu Chan; it is an Innocence that originally took the form of a sleek chokuto and was later reforged as a katana. Mugen is capable of unleashing several techniques, dubbed "illusions". After the Third Exorcists Arc, the Mugen was found covered in a strange rust, which was taken as proof that it lost its compatibility with Kanda. He is therefore thought to have died with Alma. He is voiced by Takahiro Sakurai in Japanese and Travis Willingham in English. In the Seeds of Destruction Arc, it is revealed he is alive, and he claims Mugen back, in the process turning Mugen into a Crystal Type.
Ad blocker interference detected!
Wikia is a free-to-use site that makes money from advertising. We have a modified experience for viewers using ad blockers

Wikia is not accessible if you've made further modifications. Remove the custom ad blocker rule(s) and the page will load as expected.