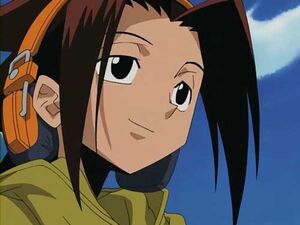 Yoh Asakura (麻倉 葉, Asakura Yō), the main protagonist of shaman king. Yoh wants to become Shaman King to fulfill his promise to his fiancée, Anna Kyoyama. In the anime Anna saved Yoh and because of this he promised Anna that he would make her the Shaman Queen when he becomes the Shaman king. In the manga, it is Yoh who saved Anna. Yoh is also the human side of Asakura Hao, an immensely powerful shaman who reincarnated himself in order to be able to participate in the Shaman Fight. The shaman side and human side of Hao were separated when their birth mother, Keiko Asakura, gave birth to twins. Yoh is part of the Team Funbari Onsen (The name of the inn Anna wants to build). In the manga Yoh also goes to Hell to train, an honor given to him by Lady Sati, and is granted the power of purification. He becomes one of the Five Elemental Warriors and gains the Spirit of Earth.
Ad blocker interference detected!
Wikia is a free-to-use site that makes money from advertising. We have a modified experience for viewers using ad blockers

Wikia is not accessible if you've made further modifications. Remove the custom ad blocker rule(s) and the page will load as expected.