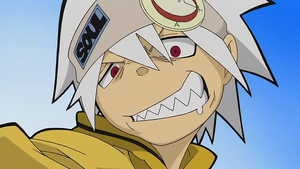 A demon scythe and the partner of Maka Albarn, and the main male protagonist. His real name is Soul Evans (ソウル=エバンス Sōru Ebansu?). His weapon form has a red and black blade, and possesses an eye near the heel which expresses his emotions. He is a laid back and nonchalant boy who tries to maintain a "cool" attitude, which he compares to the situations he is in. He tends to bicker with Maka over unimportant things from time to time, but is fiercely loyal and has more than once displayed his will to die for his friends safety. He owns a motorcycle, which he and Maka use as transportation. As a member of a renowned musician family, Soul is a talented pianist, but desired to break ties from the family tradition and, using his discovery that he was a demon weapon as an excuse to leave, decided to pursue the goal of becoming the most powerful Death Scythe ever. He is known to have played a dark song for Maka on the piano when they first met, though he is reluctant to play for other people as he doesn't know what he's capable of compared to his older brother, famous violinist Wes Evans. He can use this talent when resonating his soul wavelength with others, playing the piano within his soul to drastically enhance their power. Shows strong feelings for Death the Kid. He manages to become a death scythe as the series progresses.
Ad blocker interference detected!
Wikia is a free-to-use site that makes money from advertising. We have a modified experience for viewers using ad blockers

Wikia is not accessible if you've made further modifications. Remove the custom ad blocker rule(s) and the page will load as expected.