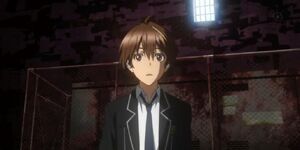 The 17-year old protagonist of Guilty Crown. He is in second year high school and a member of the modern image and video research club. Due to a chance encounter, his right arm gains the "power of kings" that allows him to extract "Voids" (objects with special properties that reflect the personality of their owners) from underage individuals.
Ad blocker interference detected!
Wikia is a free-to-use site that makes money from advertising. We have a modified experience for viewers using ad blockers

Wikia is not accessible if you've made further modifications. Remove the custom ad blocker rule(s) and the page will load as expected.