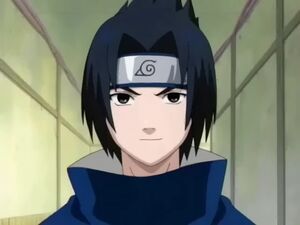 Sasuke Uchiha (うちは サスケUchiha Sasuke?) is one of the members of Team 7. He was created to be a rival to Naruto, as well as a, "cool genius", which Kishimoto believed was an integral part of an ideal rivalry. He is one of the few remaining members of the Uchiha clan along with his brother, Itachi Uchiha, who killed the rest of their family. Due to this, Sasuke's sole desire is to kill his brother, and he develops a cold and withdrawn personality. His interactions with his fellow teammates, whom are all considered precious to him, make him focus less on revenge at the start of the series. During an encounter with his brother in Part I, Sasuke is easily beaten, which leads him to leave the village to seek more power from the criminal Orochimaru. His teammates' attempts to recover him from Orochimaru forms a major component of the Part II plot. In the Japanese anime, Sasuke's seiyū is Noriaki Sugiyama, and his English voice actor is Yuri Lowenthal.
Ad blocker interference detected!
Wikia is a free-to-use site that makes money from advertising. We have a modified experience for viewers using ad blockers

Wikia is not accessible if you've made further modifications. Remove the custom ad blocker rule(s) and the page will load as expected.