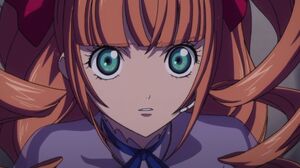 Another main character of Sacred Seven. She is the daughter of a billionaire noble family who were killed by a Darkstone. She created Aiba Foundation to combat against the Darkstones. She is a Lightstone that has the ability to turn a crystal into a Lightstone and insert it into Alma to control his true powers. She became chairman of Alma's school (where she heavily renovated the school) and a member of the Geology Club to keep in contact with Alma. She has a twin sister named Aoi who also survived the Darkstone aftermath, but was crystallized. Her whole foundation is occupied with all female maids. She has feelings for Alma this is shown throughout the series.
Ad blocker interference detected!
Wikia is a free-to-use site that makes money from advertising. We have a modified experience for viewers using ad blockers

Wikia is not accessible if you've made further modifications. Remove the custom ad blocker rule(s) and the page will load as expected.