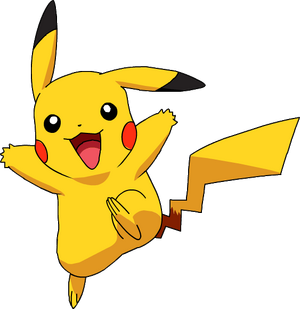 Pikachu (ピカチュウ Pikachū?) is one of the species of Pokémon creatures from the Pokémon media franchise—a collection of video games, anime, manga, books, trading cards, and other media created by Satoshi Tajiri. As do all Pokémon, Pikachu fight other Pokémon in battles central to the anime, manga, and games of the series. Pikachu is among the most recognizable Pokémon, largely because a Pikachu is a central character in the Pokémon anime series. Pikachu is widely considered the most popular Pokémon, is regarded as the official mascot of the Pokémon franchise, and has become an icon of Japanese culture in recent years. Within the world of the Pokémon franchise, Pikachu are often found in houses, forests, plains, and occasionally near mountains, islands, and electrical sources (such as power plants), on most continents throughout the fictional world. As an Electric-type Pokémon, Pikachu can store electricity in its cheeks and release it in lightning-based attacks. Pikachu is the evolved form of Pichu, which evolves at full happiness, and evolves into a Raichu with a "Thunderstone".
Ad blocker interference detected!
Wikia is a free-to-use site that makes money from advertising. We have a modified experience for viewers using ad blockers

Wikia is not accessible if you've made further modifications. Remove the custom ad blocker rule(s) and the page will load as expected.