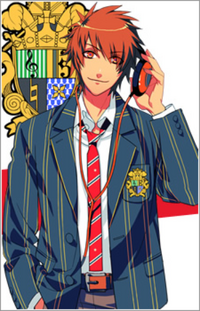 Haruka's classmate in A Class, he's a friendly and positive person who enjoys singing. He shares a room with Tokiya from Class S. In the anime, he stands up for Haruka when she was barred from taking the entrance exam due to being late. He is always straightforward and honest. Despite his age, he is seen acting like a child. He cares for Haruka and believes that he will reach his goal with her at his side.
Ad blocker interference detected!
Wikia is a free-to-use site that makes money from advertising. We have a modified experience for viewers using ad blockers

Wikia is not accessible if you've made further modifications. Remove the custom ad blocker rule(s) and the page will load as expected.