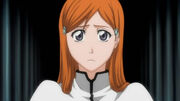 Orihime Inoue (井上 織姫Inoue Orihime?) is a long-time classmate of Ichigo Kurosaki who gains a crush on him later on in the series, linked to him by mutual friend Tatsuki Arisawa. She is effectively an orphan, as when she was 3, her older brother Sora left their abusive parents' home with Orihime and raised her on his own . Later on, when Orihime was in middle school, he died in an accident. Though initially devoid of spiritual powers, she develops spiritual awareness early in the plot and later obtains the God-like ability to warp reality through rejecting past phenomena. She is voiced by Yuki Matsuoka in the Japanese series and by Stephanie Sheh in the English dub.
Ad blocker interference detected!
Wikia is a free-to-use site that makes money from advertising. We have a modified experience for viewers using ad blockers

Wikia is not accessible if you've made further modifications. Remove the custom ad blocker rule(s) and the page will load as expected.