Nana Komatsu (小松 奈々, Komatsu Nana) was affectionately given the nickname "Hachiko" (usually shortened to Hachi) by Nana Osaki.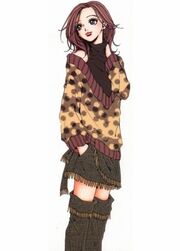 PersonalityEdit
Nana has a habit of falling in love at first sight all the time, and depending on others to help her. When her friends, and then her boyfriend, leave for Tokyo, she decides to join them a year later after having saved enough money at the age of twenty. She then meets Nana Osaki by chance on a train. She talks the whole trin ride then later realises that she did not learn much about Nana. Then by another chance they meet when they are looking for an appartment and end up becoming flatmates.
Want to learn more about Nana? Visit our Wiki!