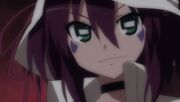 A dream demon from the dreamworld, who allegedly came into the real world 10 years ago without any memory. Unlike the other dream demons, she doesn't need to possess a human to enter the real world, as she has her own body. Searching for a door to come back to the Dreamworld, she falls on Yumeji one day, who wants to help her to find her way back home. At first reluctant, when a daydream occurs and when she saves Yumeji's life, she accepts his help. She is able to break the daydreams in order to get back in the real world. She can't eat spicy food or drink carbonated soda, but she loves doughnuts above everything and likes video games a lot. She currently works at the Tachibana restaurant. Merry's distinct features include horizontal slit-shaped pupils similar to that of sheep and a scar on her right arm, in the same place where Yumeji used to have his.
Ad blocker interference detected!
Wikia is a free-to-use site that makes money from advertising. We have a modified experience for viewers using ad blockers

Wikia is not accessible if you've made further modifications. Remove the custom ad blocker rule(s) and the page will load as expected.