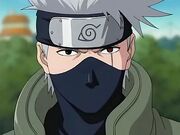 Kakashi Hatake
(はたけ カカシHatake Kakashi

?

)
is the leader of Squad 7 and the
sensei
of Naruto, Sasuke, and Sakura. Kishimoto had originally intended for Kakashi to be introduced earlier in the series than he actually was, and created him as an easygoing person that would be able to keep the members of Team 7 in check. Kakashi treats his leadership position with a detached manner, and is consistently late to meetings as a result. In a
gaiden
on Kakashi's past, this is shown to be the result of an incident in which he witnessed the death of one of his teammates, Obito Uchiha, who gave Kakashi his
Sharingan
eye and imparted many of his habits, including his tardiness.
vol. 27, ch. 243
With Obito's Sharingan, Kakashi has amassed a reputation as a skilled and powerful ninja, earning the moniker "Copy Ninja Kakashi"
(コピー忍者のカカシKopī Ninja no Kakashi

?

)
.
vol. 2, ch. 12
Although he mentors all three members of Team 7 early in the series, he concentrates on training Sasuke as the series continues, teaching him his
Chidori
technique; however, he is unable to prevent Sasuke from leaving the village to seek Orochimaru for greater power.
vol. 20, ch. 176
Kakashi's
seiyū
in the Japanese anime is
Kazuhiko Inoue
, and his English voice actor is
Dave Wittenberg
.