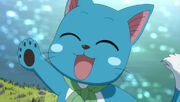 Happy (ハッピーHappī?) is a blue, talking cat with the ability to use magic. Series creator Hiro Mashima was originally going to name him "Freyr" after the Norse god, but didn't think it fit his character.[6] In keeping with his name he is generally quite happy, and is more cool-headed than his partner, Natsu. One type of special ability magic called "Aera" allows Happy to temporarily grow wings on his back and fly, but he can only carry one person in this form. This is the only kind of transportation that does not give Natsu motion sickness. When asked why, Natsu exclaims that Happy is a friend, not a means of transportation.[7]. Happy emerged from an egg found by Natsu in the forest, and with the help of Lisanna, Mirajane and Elfman they took care of the egg, hoping a dragon would emerge. The egg was taken by Elfman, who had taken the egg when Lisanna and Natsu were sleeping, wanting to help with the egg's hatching, but was too embarrassed, and decided to help out secretly. After Magnolia is absorbed by Anima, he discovers that he is an Exceed, a race of cat-like creatures that can absorb magic within their bodies. When Happy and Carla escape from Extalia, a farmer takes them in. Unbeknowst to Happy, the farmer and his wife are his parents. Their names are Lucky and Marla. He is voiced by Rie Kugimiya in Japanese and Tia Ballard in English.
Ad blocker interference detected!
Wikia is a free-to-use site that makes money from advertising. We have a modified experience for viewers using ad blockers

Wikia is not accessible if you've made further modifications. Remove the custom ad blocker rule(s) and the page will load as expected.