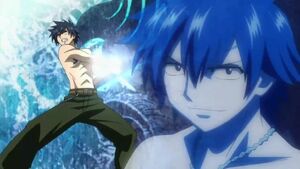 Gray Fullbuster (グレイ・フルバスター Gurei Furubasutā) is a main character of the series. He frequently teams up with Lucy and Natsu when they go on a mission. Natsu and Gray have a very brotherly, albeit competitive, relationship, with Natsu picking a fight with Gray whenever he says something that might be seen as insulting. Lucy theorizes that their constant fights are a natural by product of the magic styles. He is voiced by Yuichi Nakamura in Japanese and Newton Pittman in English. Gray was taught how to use ice magic by Ul when he was a child after his parents were killed by Deliora. When Gray later attacked Deliora to seek revenge, Ul sacrifices herself to trap Deliora in ice and save Gray. During his training with Ul, Gray was forced to live in a snowy region wearing nothing but his underwear in order to get accustomed to the coldness of ice. Because of this he has developed the subconscious habit of removing his clothes at inappropriate times, as he is most comfortable without them. Gray is one of Fairy Tail's most talented wizards, and he is able to form static formations of ice with relative ease. Unlike his fellow student under Ul, Lyon, Gray uses both of his hands when forming ice since using only one hand can create unbalanced ice forms. After defeating Juvia, she falls in love with him and joins Fairy Tail to be with him, where they develop a friendship.
Ad blocker interference detected!
Wikia is a free-to-use site that makes money from advertising. We have a modified experience for viewers using ad blockers

Wikia is not accessible if you've made further modifications. Remove the custom ad blocker rule(s) and the page will load as expected.