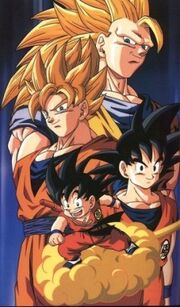 Overview;
Edit
Goku (孫 悟空, Son Gokū) is the main protagonist of the Dragon Ball metaseries created by Akira Toriyama. He is the adopted grandson of Grandpa Gohan, the husband of Chi-Chi, the father of Gohan and Goten, the grandfather of Pan, and later great-great grandfather of Goku Jr. Goku is a defender of Earth and informally leads the Z Fighters. Throughout his life, he trains hard and strives to be the greatest warrior possible, while at the same time using his amazing strength and skills to uphold peace. These qualities make him the perfect example of a hero, though not necessarily the perfect role model, due to his lack of education.
Early Life;
Edit
Kakarot (カカロット, Kakarotto; renamed Goku on Earth) was born sometime in Age 737 on Planet Vegeta, during a time of great turmoil. Following a Saiyan custom, Goku was sent as a baby to planet Earth, in order to destroy its inhabitants and clear the planet for its future sale. As Earth's inhabitants were thought to be weak, a baby Saiyan was seen as enough for the task, especially after transforming into a Great Ape by Earth's full moon.
After crash-landing on Earth, Goku became the adopted grandson of an old man named Gohan, who found him in the woods and gave him his human name. At first, Goku was extremely violent and ill-tempered, not obeying Gohan at all, but one day he fell down a deep ravine and hit his head, suffering severe head trauma that sent him into a coma and very nearly killed him. After he woke up, he had lost all of his Saiyan aggression, becoming a kind and mild-mannered young boy. His Grandpa Gohan taught him martial arts and told him about such things as the city and people, as they lived in a very remote place in Mount Paozu, with no communication with other people.
Personality;
Edit
Goku is known for his cheerful, energetic personality and his love of competition (specifically sport fighting and eating). He has remarkable intuition at seeing the good in others in spite of their actions, though his capacity for forgiving his enemies has occasionally been criticized as excessive; Goku, for the most part, only fights to win, and spares his enemies after defeating them only for them to attack him when his back is turned.
Appearance;
Edit
Goku is the main character in the entire Dragon Ball series. With spiky black hair and his trademark orange/red/golden and blue clothes.
Picture Gallery:
Edit