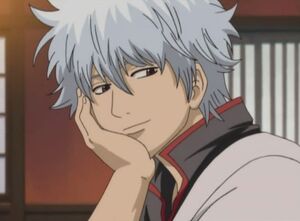 Gintoki Sakata (坂田銀時 Sakata Gintoki?) is a samurai living in an era when samurai are no longer needed. He is recognized by his natural curly hair and sweet tooth. He often blames his "perm" hair of sorts to be a source of some of his misfortune. Gintoki lives with Kagura and Shinpachi, taking on odd jobs to make the world a better place and to pay their rent. In the Joi war, he was known as the "White Demon" (白夜叉 Shiroyasha?) due to his silver hair and white coat he wore in battle, which, combined with his impressive capabilities as a swordsman, made him famous among his comrades and struck fear into Amanto. In the anime he is voiced by Tomokazu Sugita.
Ad blocker interference detected!
Wikia is a free-to-use site that makes money from advertising. We have a modified experience for viewers using ad blockers

Wikia is not accessible if you've made further modifications. Remove the custom ad blocker rule(s) and the page will load as expected.