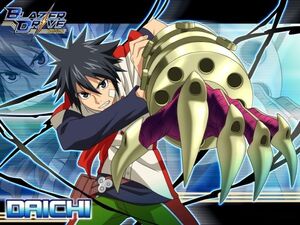 The protagonist of the manga series Blazer Drive. He portrayed himself as a very cool person though he's more to a loser. For a reason unknown to him, Daichi is being targeted by stray Blazers that are after his "power". He seems somewhat reckless but knows how to deal with difficult situations. He is a Blazer and so far most often uses an electric Mysticker given to him by his brother. He also possesses the Tamamayu Mysticker given to him by Shiroh that turns into an arm gauntlet. Tamamayu can also change into various forms, and mixed together with Daichi's electricity is very powerful. Daichi and Shiroh have become rivals after they first met and work together in some occasions. He uses a motorized, two-wheeled version of a skateboard, called a "ballboard", as his main transportation. It is later revealed that Daichi's 'power' is the ability to create unique mystickers. The Quilin are attempting to unlock his power so that they can use him to create mystickers with powers unmatched by any others.
Ad blocker interference detected!
Wikia is a free-to-use site that makes money from advertising. We have a modified experience for viewers using ad blockers

Wikia is not accessible if you've made further modifications. Remove the custom ad blocker rule(s) and the page will load as expected.