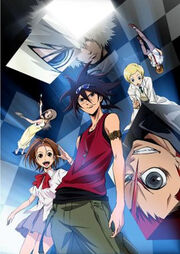 Phi Brain: Puzzle of God (ファイ・ブレイン 神のパズルFai Burein Kami no Pazuru?) is a 2011 Japanese animetelevision series produced by Sunrise which began airing on NHK-Educational from October 2, 2011. The series is directed by Junichi Sato with script supervision by Mayori Sekijima. Hajime Yatate, the collective penname for the creative staff at Sunrise, is credited with the original story. The anime has been licensed in North America by Sentai Filmworks.
Kaito, a puzzle-loving high school freshman, is selected as a candidate for "Phi Brain". He and his friend Nonoha find an "unsolvable puzzle" near their school. The puzzle turns out to be a life-threatening "philosopher's puzzle" created by the mysterious group POG (Puzzle Of God). After successfully solving the puzzle, Kaito is designated as a Solver and is joined by other Solvers as they battle POG all over the world by solving the "philosopher's puzzles".
Pages in category "Phi Brain: Puzzle of God"
Ad blocker interference detected!
Wikia is a free-to-use site that makes money from advertising. We have a modified experience for viewers using ad blockers

Wikia is not accessible if you've made further modifications. Remove the custom ad blocker rule(s) and the page will load as expected.