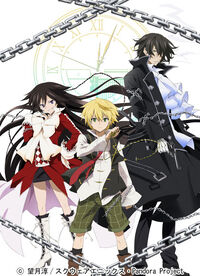 Pandora Hearts (パンドラハーツPandora Hātsu ?) is a manga series by Jun Mochizuki. Originally starting serialization in theshōnen magazine GFantasy published by Square Enix in June 2006. Currently fourteen volumes have been released in Japan. The manga series was licensed for an English language release by Broccoli Books but has been dropped; it has been licensed by Yen Press since then. It has also been made into an anime version, produced by Xebec. On February 11, 2010, NIS Americaannounced it would release the anime of Pandora Hearts in North America. This series also had 9 OVA's (3 minute per episode), which aired from July 24, 2009 to March 25, 2010.
Pages in category "Pandora Hearts"
Ad blocker interference detected!
Wikia is a free-to-use site that makes money from advertising. We have a modified experience for viewers using ad blockers

Wikia is not accessible if you've made further modifications. Remove the custom ad blocker rule(s) and the page will load as expected.