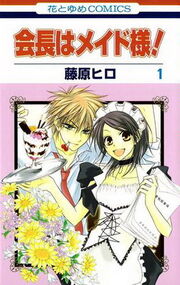 Maid Sama!, known in Japan as Kaichō wa Maid-sama! (会長はメイド様!?), literally The Student Council President is a Maid! is a shōjo manga series by Hiro Fujiwara. The story centers around Misaki Ayuzawa, the student council president of the previously all-boys high school who is particularly strict on the boys, and her relationship with Takumi Usui who after he discovers that Misaki works at a maid café to support her family.
Seika High School, once an all-boys school notorious for its wild students and for generally being a terrifying place for girls, has recently become a co-ed school. With the female population still a minority and living in fear of the over-the-top antics of the males, Misaki Ayuzawa takes it into her own hands to reform the school and allow the girls to feel safe in the rough environment.
Training, studying, and even becoming the first female student council president of the school, Misaki has gained a reputation among the male students body as an uptight, boy-hating dictator and as a shining hope for the teachers and fellow female students. However, despite her tough-as-nails appearance, she secretly works part-time at a maid café in order to support her family. Unfortunately, her hard-earned reputation is threatened when the popular, attractive, and somewhat impassive Takumi Usui takes an interest in her after discovering her in a maid uniform after school.
Pages in category "Kaichou Wa Maid-Sama!"
Ad blocker interference detected!
Wikia is a free-to-use site that makes money from advertising. We have a modified experience for viewers using ad blockers

Wikia is not accessible if you've made further modifications. Remove the custom ad blocker rule(s) and the page will load as expected.