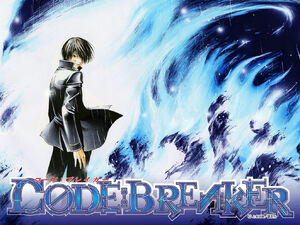 Code:Breaker (コード: ブレイカー Kōdo:Bureikā?) is a manga written and illustrated by Akimine Kamijyo running in Weekly Shōnen Magazine through Kodansha. It tells the story of a high-school girl who is trained in martial arts and a new transfer student, a boy with mysterious powers.
Riding the bus one day, Sakura Sakurakouji looks out the window to see people being burned alive with a blue fire as a boy her age remains unharmed and stands over the people. When she goes back to the site the next day, there are no corpses or evidence of any kind of murder, just a small fire. When Sakura goes to class, she discovers the new transfer student is the same boy she saw the day before. Sakura soon learns that he is Rei Oogami, the sixth "Code: Breaker," a special type of assassin with a strange ability and a member of a secret organization that serves the government.
Code:Breakers are members of a top secret organization involved in taking down corrupt officials and politicians.They consist of people who have special powers They are given orders by an organization called "Eden". So far there are revealed to be 2 categories of Code:Breakers.They all have number code names that denote their strength: Code:06 being the weakest (which all Code:Breakers start off with) and Code:01 being the strongest.
Former Code:Breakers are mentioned as Ex Code:Breakers, following with their former number/name before they left or retired. It should be noted that Hitomi before he met his Code: End he had a wall with clocks dedicated to Code:Breakers who died. This could possibly mean that the other former code:breakers might be dead.
There are also people with special powers that cannot be named with a code number because their abilities are much advanced, therefore, there are members called Code:Names like Code:Seeker and Code:Emperor.
Pages in category "Code:Breaker"
Ad blocker interference detected!
Wikia is a free-to-use site that makes money from advertising. We have a modified experience for viewers using ad blockers

Wikia is not accessible if you've made further modifications. Remove the custom ad blocker rule(s) and the page will load as expected.