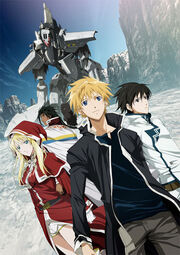 Broken Blade
(ブレイク ブレイドBureiku Bureido

?

, a.k.a. "Break Blade")
is a Japanese
manga
series written and illustrated by Yunosuke Yoshinaga.
Flex Comix
published the first
tankōbon
volume of the manga on April 10, 2007. The manga is licensed in North America by
CMX
, which released the first
tankōbon
volume of the manga on July 7, 2009 despite previously announcing the release date of the manga as June 23, 2009. The manga is licensed in Taiwan by
Tong Li Publishing
. The manga was adapted into six 50 minute animated movies.
The story is centered around a young man named Rygart Arrow, an 'un-sorcerer' born into a world where people can use 'magic'. This magic is the ability to control and empower quartz, doing many things from creating light to operating machinery to riding giant mecha called 'Golems'. Rygart, however, is one of the few exceptions; he cannot utilize quartz, making many aspects of life difficult as well as being looked down upon by the rest of society. Despite this 'limitation', in his youth he managed to befriend Hodr and Sigyn, the future King and Queen of the Krisna Kingdom and Zess, the younger brother of the Secretary of War of the Athens Commonwealth.
Years later, Rygart is reunited with Hodr and Sigyn where he learns the Athens Commonwealth has begun an invasion of Krisna. Rygart is also shocked to learn that their old friend, Zess, is leading one of the strike forces. While at the capital, Rygart discovers that he has the ability to pilot a recently discovered ancient golem which cannot be piloted by magic users. Despite its ancient origins, the golem possesses capabilities and systems far more advanced than any modern golem, and could be key to turning the tide of battle. While hesitant at first, Rygart soon gets involved in the war between Krisna and Athens, in an attempt to save Hodr and Sigyn, and Zess.
Pages in category "Broken Blade"
Ad blocker interference detected!
Wikia is a free-to-use site that makes money from advertising. We have a modified experience for viewers using ad blockers

Wikia is not accessible if you've made further modifications. Remove the custom ad blocker rule(s) and the page will load as expected.