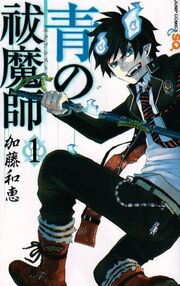 Blue Exorcist also referred to as "Ao No Exorcist" (青の祓魔師 Ao no haramashi?) is a manga written and illustrated by Kazue Kato. The manga has been serialized in Jump Square magazine by Shueisha since April 2009, with individual chapters collected into six tankōbon volumes as of April 4, 2011. The one-shot of the manga was first featured in the September 2008 issue of Jump Square and was titled Miyamauguisu House Case (深山鶯邸事件 Miyamauguisu-tei Jiken?). As of July 4, 2011, 26 chapters have been released in Japan. Viz Media has licensed the manga for North American production, with the first volume released in April 5, 2011 and the fifth volume scheduled for release in December 6, 2011. Blue Exorcist has also been released in the Shonen Jump Advanced magazine starting April 5, 2011. The North American book distributor Simon & Schuster listed the first volume of Kazue Katō's Blue Exorcist manga for release by Viz Media this April 2011.
Production
Edit
Inspired by a Brothers Grimm fairy tale, Kato tried to work the angle of brothers fighting monsters into a story. She eventually decided on making the story about demons and exorcists, thus conceiving Blue Exorcist. Due to exorcists being the main idea of the story, the manga features a lot of biblical references. In a interview Kato said "I should not run away from these references if I'm working in the Exorcist genre."
Pages in category "Ao no Exorcist"
Ad blocker interference detected!
Wikia is a free-to-use site that makes money from advertising. We have a modified experience for viewers using ad blockers

Wikia is not accessible if you've made further modifications. Remove the custom ad blocker rule(s) and the page will load as expected.